FIRALIS MANAGEMENT
Firalis is involved in several large scale research & development projects for clinical and regulatory qualification of novel biomarkers, playing a central role in the establishment of gold standards for the translational biomarker science, in particularly since the creation of SAFE-T Consortium (Safer and Faster Evidence-based Translation), a biomarker qualification project, initiated and coordinated during the public phase by Firalis S.A., co-funded by the seven large Pharma together with the European Commission, via the IMI-JU program (Innovative Medicines Initiative-Joint Undertaking).

In consistency with this goal of constant qualification of novel biomarkers for clinical applications, Firalis management team involves passionate scientifics with several decades of industry experience, including various positions in the management of life sciences, research and innovation. Project and workforce management, interaction with Health Authorities, regulatory affairs, protection of intellectual property are few of in-house know-how at Firalis Group, among many.

Key members of the Firalis Group Management Team :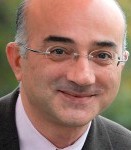 Prof. Hüseyin FIRAT, MD, PhD
General Manager (DGU), CEO-CSO
He is a pediatrician and practiced as an associate professor in Paris University hospitals. After his PhD of Immunology at Pasteur Institute, he was accredited as research director, responsible of the Immunology Laboratory at Généthon. In 2002, he joined then the Biomarker Department of Novartis Pharma, where he headed global omics data analysis sections worldwide, served as senior Biomarker Expert in International Project Teams and was member of Novartis Pharma Innovation Team, Basel. His research activities generated several patented discoveries, based on which three biotech companies have been created. In 2007, he has been accredited as University Professor in France and founded Firalis. As the CEO-CSO of Firalis Group, he manages the Group companies with administrative and scientific supervisory boards, also with support from several expert consultants and offices in accounting, social and legal affairs.

Dr. Beatrice MOLAC,
Director of Intellectual Property and Regulatory Affairs
Dr. Molac graduated from the "Ecole Nationale Supérieure de Chimie" in Mulhouse and completed her PhD at the University of Strasbourg. She was a European patent attorney at Sandoz AG and group Head of Pharma Patents Transplantation at Novartis AG until 2007. For 10 years, she also headed the European Qualifying Examination Committee II and was a member of the European Board for the European Qualifying Examination, Munich.
At Firalis, Beatrice is in charge of Intellectual Property and Regulatory Affairs.