PROTEOMICS & SOLUBLE BIOMARKERS
Immunoassays for measurement of circulating and soluble markers 
Firalis Testing laboratory provides the required solution for all your project feasibility request. With his strong scientific knowledge, our scientific team is able to accompanied you to project feasibility to complete results reporting. Firalis is able to guide you in biomarker discovery, drug development, IVD/CE marked product development project from preclinical to phase II clinical trials.
Firalis operates in a high quality environment under strict quality assurance procedures. All laboratory facilities is in restricted-acces and controlled area. Accredited by ISO 17025 and compliant with GCLP/CLIA guidelines (gold standard for sample analytical measurement), Firalis Biomarker Testing activity includes the required assets to get each of your project to an upper step.
Firalis Testing Laboratory provides high-quality services in terms of results, traceability of samples, and project management. The laboratory is equipped with a GLP-compliant laboratory information management system (LIMS). Samples are stored in a dedicated biobank with an industrial-grade back-up power system and with 24/7 control (please see Biobanking section).
We offer a large immunoassay technological park with a strong Scientific expertise.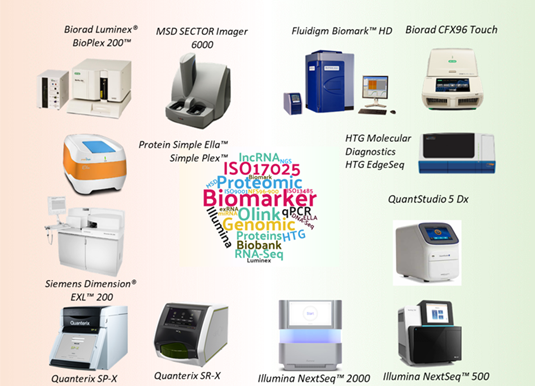 Expertise at the service of your research. To assist in the best way companies, academic institution, government agency or organizations, Firalis offers a solid scientific support and an important and diversified technological park, allowing us to adapt to each project's specifications.
Testing department's unique platforms contain the cutting-edge technologies in order to provide you with the most accurate results.
Ensight multimode plate reader for ELISA and AlphaLISA® assays :

Absorbance and Fluorescence intensity detection with monochromator.

Luminescence AlphaLISA / AlphaScreen detection with high power laser excitation

Exploring cell signaling pathways using AlphaLISA SureFire, specific panels dedicated to phosphorylated proteins
Luminex® BioPlex 200™ :

Large choice of target and multiplex

Up to 50 biomarkers to be simultaneously profiled in a small volume of sample

Customizable Panel assay
Meso Scale Discovery® (MSD) SECTOR Imager 6000 :

Extensive catalogue of standard and validated (V-plex) assays covering all therapeutic areas

From 1 to 10 analytes measurables at once

Combines high sensitivity, excellent reproducibility and a wide dynamic range.

Customizable Panel assay
Protein Simple Ella™:

Fully automated Immunoassay platform

Up to 4 analytes measurables at once in different format of mutlianalyte cartridges
(without cross-reactions)

Up to 8 analytes measurables at once in different format of multiplex cartridges

Customisable Assays to build your own assays development on ELLA with Firalis.
Quanterix SR-X & SP-X ® :

Ultra-Sensitive multiplex biomarker detection system
(up to 6plex for SR-X and 10 plex for SP-X)

Detection up to femtomolar levels of biomarkers

Large therapeutics areas
(Oncology, immunology/inflammation, infectious disease & Cardiology)

Customisable Assays to build your own assays development on SR-X or SP-X with Firalis.
Siemens Dimension:

IVD reagents and technology

Large choice of biochemistry and hematology markers measurement

Fully automated device

Frequently used for cardiovascular markers
Biomark™ HD system :

Automated, high-performance PCR system

High-throughput, cost and time effective

A wide range of integrated fluidic circuits available
Olink Target :

High multiplex immunoassays

92 human protein biomarkers measured simultaneously with 96 samples in one panel
(Target 96)

Quantitatif results with Target 48 and semi-quantitatif with Target 96

Wide range of compatible matrices

Only 1µL of samples needed for high-throughput results.

Large diseases area covered


Olink Explore : 

384 to 3072 target availables (High-multiplex, High-throughput biomarker platform)

Weak amount of samples needed (approximately 1µL of sample per 384-plex panel)

Cardiometabolic, inflammation, neurology and oncology diseases are covered.

Firalis offers a wide range of assays to be tested on this integrated platform, including biomarkers analysis usually performed in clinical routine. The assays we propose are validated to fit the performance criteria required in your research or clinical project.

Our partnerships with the pharma industry have resulted in a high standard of quality and reliability regarding data delivered. Clients are invited to choose from our assay menu and to use validation data available ad hoc or from a customized procedure.

Contact directly our experts at the following email: sales{@}firalis.com

We will be pleased to provide you a customized proposition and a tailored strategy regarding your projects and/or your list of biomarkers of interest.

To get a  quicker answer on your inquiry, do not forget to provide the following information:
Number of samples to be measured and sample species if not human

Nature of blood-derived matrices or of the sample

Biomarkers of interests to be measured