Firalis provides a complete solution for all your genomic/transcriptomic discovery & profiling needs. We can provide you with Next-Generation Sequencing and qRT-PCR profiling services for the most complete genome and transcriptome analysis of your samples.
Next-Generation Sequencing (NGS)
The Illumina NextSeq 500 is the desktop NGS system optimized for speed and long reads. The Flow Cells produce up to 400 million reads with read lengths between up to 150 bp by either single (SR) or paired end (PE) reads to generate up to 120 Gb of data per day. Multiple samples can be multiplexed onto a single cartridge to more efficiently distribute the reads.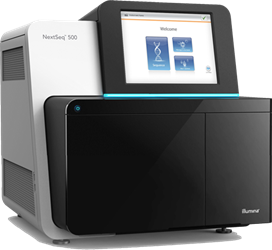 Due to its deep sequencing capabilities, the NextSeq 500 instrument enables a wide variety of applications:
Whole genome sequencing

Exome analysis

Transcriptome analysis

Targeted sequencing

Amplicon sequencing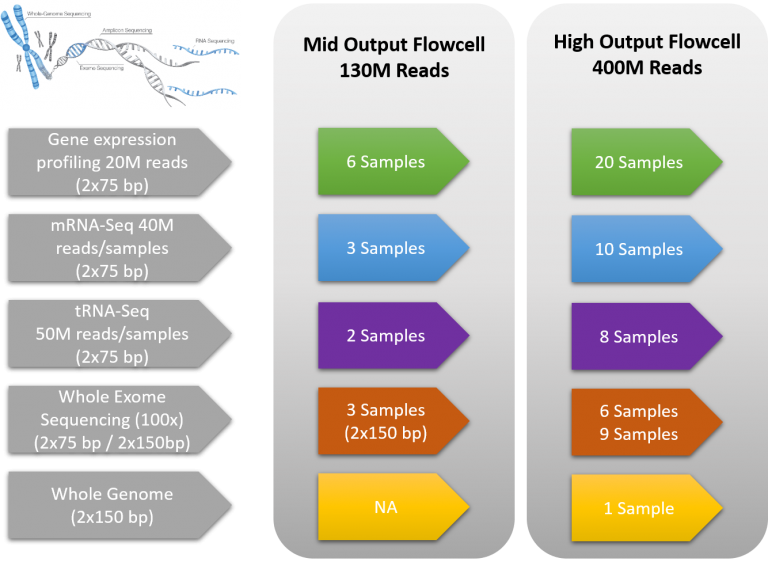 This unique technology coupled to our HTG EdgeSeq system successfully performs identification of new transcripts, such as miRNA and lncRNA or characterization of rare variants, as a wide number of reads can be done in order to confirm the discovery. Firalis can be your partner of choice by providing you its expertise in order to enhance your research.
Key strengths of our NextSeq 500 platform:
Adaptive to your project with Mid Output Flowcell (up to 130 million single reads or 260 million PE reads) or High Output Flowcell (up to 400 million single reads or 800 million PE reads)

Read lengths up to 2x150 bp resulting in up to 120 data per run

High multiplexing capabilities with up to 96 samples in a single run

RNA-Sequencing of mRNA and lncRNA (via polyA selection)

Whole Transcriptome Assay: mRNA, lncRNA and nuclear RNA (via rRNA depletion)

Sequencing of small RNA/miRNA
Our NextSeq 500 system is associated with a BaseSpace on-site server for a secure, safe and local environment avoiding data transfer to the cloud. All data are kept on-site which enables us to store, analyze, and share sequencing data. The data analysis are performed with different BaseSpace apps and Partek Genomic Suite.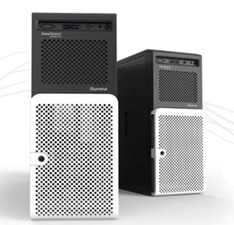 Our team of experts helps you for a successful experiment design in order to discover new variant markers and to assess gene expression and regulation, speeding up your clinical development. The NGS platform at Firalis enables also to monitor your promising therapies and to analyze pathology profiling e.g cancers, inflammatory disorders and neurodegenerative diseases.
Targeted sequencing with HTG EdgeSeq
The HTG EdgeSeq system, available at Firalis (certified lab and referent for Europe), is a novel target capture and library prep chemistry technology which enables fast and easy profiling of microRNA (miRNA) and messenger RNA (mRNA). The HTG EdgeSeq system uses an extraction-free chemistry that significantly reduces sample input requirements and variability associated to the extraction step. In just 3 days, our scientists can go from raw samples to data for up to 96 samples.
Key advantages of the HTG EdgeSeq:
Extraction-free chemistry

Minimal sample inputSerum/Plasma: 15µL

FFPE Tissue: 1 slide of 10mm2 x 5µm section

Cell line / PBMCs: from 5.000 cells

PAXgene: 500 µL

Whole blood: 500 μL

Extracted RNA: > 15 ng

Very high reproducibility (*R²> 0.98)

High sensitivity of the Next-Generation Sequencing
Workflow: Fast and Easy


Click here for the HTG EdgeSeq assay list
miRNA Whole Transcriptome Assay (WTA): measure the expression of 2083 human miRNA transcripts (cover the miRnome)
Oncology Biomarker Panel (OBP): profiling of messenger RNAs (2560 oncogenes) spread across 24 groups and metabolic pathway, also identify therapeutic targets and drug response markers
BIOPRED: Firalis proprietary panel, profiling of messenger RNAs (2155 genes) specific to inflammation and immune response targets
Precision Immuno-Oncology (PIP): profiling of messenger RNAs (1392 genes) to measure the immune response both inside the tumor and the surrounding microenvironment
Lymphoma Panel: measures the expression of 

93 genes frequently assessed in lymphomas

, including 22 common non-Hodgkins lymphoma (NHL) B-cell lymphoma markers
Mouse mRNA: mouse dedicated panels for profiling applications including translational medicine research and preclinical studies


Real time qPCR technologies
Firalis propose several approaches depending of your qPCR project
High flexibility with the use of CFX96 (real time PCR on 96 well plate) and Biomark HD (microfluidic qPCR – Flex6 (144 reactions/run) to 96.96 (9216 reactions per run)

Robust workflow including primer validation, search for qPCR inhibitors, use of control charts and Westgard's rules.

Combination of approaches to optimize projects and costs

Taqman and SybrGreen chemistry


Key applications include:
Gene expression (real-time PCR): High-throughput gene expression analysis can be conducted on RNA miRNA and lncRNA using either Taqman, Sybr Green or Eva Green assays.
Genotyping with the detection of single nucleotide polymorphism (SNP) (end-point PCR): High-throughput genotyping with Taqman assays. A powerful tool for understanding disease disposition and drug metabolism with low sample concentrations (only ≥60 ng/μL of human genome size equivalent is required)


The Biomark™ HD is the industry-leading high-throughput real-time PCR instrument developed by Fluidigm. The Biomark's Integrated Fluidic Circuit (IFC) technology prepares and performs up to 9,216 qPCR reaction per plate in nanoliter volumes, a savings time and money over more conventional qPCR assay techniques.
The Biomark™ HD is ideal for a targeted analysis approach, compared to microarray or next generation sequencing. Also, for validation studies, multiple samples can be screened against 96 different targets. It design experiments to match your needs across the widest range of genomic applications and detect unique molecular signatures in individual cells and rare cell populations.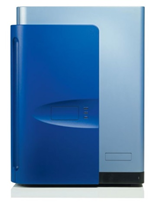 The Biomark™ HD supports a broad range of projects through the use of different plate formats that are compatible with Taqman™, SNPtype™ and DELTAgene™ assays. Our HX controller is designed to prime and load Dynamic Array IFCs which allows high-throughput gene expression analysis of 12 or 96 target genes in 12/96 samples or testing of 12/96 SNPs in 12/96 patient samples .
The integrated fluidics circuit (IFC) controllers push samples and reagents through channels until full; then coordinated releasing and closing of fluidic valves allows mixing of samples and reagents into individual compartments within the silicon chip saving thousands of pipetting steps. Each compartment contains only a few nanoliters total volume of the qPCR reaction. The chips are then loaded onto the Biomark™ HD System. The Flex Six and 96.96 Dynamic Array chip can simultaneously analyze up to 144 or 9,216 reactions, respectively.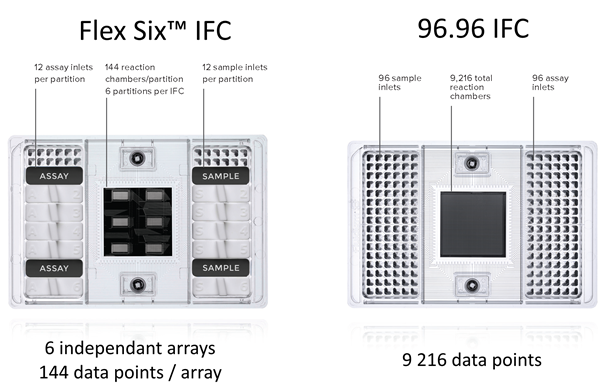 The key benefits of the system include:
high-throughput (up to 40,000 qPCR reactions per day possible)

low reagent consumption (nanoliter reaction chambers)

reproducible results from populations of cells

high flexibility with different Dynamic Array

Workflow: Fast and Easy
A time and cost effective solution
| | |
| --- | --- |
| Classical PCR | Biomark™ HD |
| 384 samples x 96 genes | 384 samples x 96 genes |
| 184 mL master mix | 960 µL master mix |
| 18 mL primer-probes | 960 µL primer-probes |
| 96 384 well-plates | 4 96.96 plates |
| Turnaround time: 32 days | Turnaround time: 1 day |
For other qPCR projects, we are equiped with a CFX96 Touch Real-Time PCR Detection System from Bio-Rad. This six-channel (five colors and one FRET channel) real-time PCR instrument combines advanced optical technology with precise temperature control to deliver sensitive, reliable detection for singlexplex or multiplex reactions.
Also available, the Taqman low density array (TLDA) module allows custom assay design and assay configuration flexibility. From up to 380 assays on a single sample to 32 assays on 8 samples per plate, choose the assay that is right for you to validate your signature or profile your samples.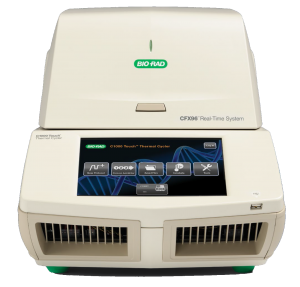 Whether seeking a cutting edge technology, expert hand to your research or taking your business to the next level, don't hesitate to contact us at sales@firalis.com to get further details about Firalis Biomarker Services and to discuss your projects.