Flow Cytometry is a technology to be employed in all various stages of pre-clinical development, ranging from target selection and validation, mechanism of action identification up to clinical development for diagnosis, prognosis and monitoring of disease.

Our advanced Flow Cytometry unit designs on demand up to 10-color specific panels for a highly sensitive detection of different surface and intracellular biomarkers on a high resolution Beckman Coulter Flow Cytometer. The Navios Flow Cytometer delivers analytical excellence by combining extraordinary sensitivity, resolution and dynamic range with high-speed data collection. It provides accurate measurements, especially for rare events, which are critical to clinical diagnosis and monitoring. The fully-featured, easy-to-use, Navios software provides tools to improve the quality of results as well as to optimize workflow efficiencies in a clinical lab.

Our platform allows multiparametric analysis of single cells from surface to intracellular expression of markers, characterization of viability, stress and damage, and profiling of intracellular signaling. This facilitates profiling of your drug candidates, in particular their effects on cell-specific biomarkers, to monitor the efficacy and/or safety of the treatment.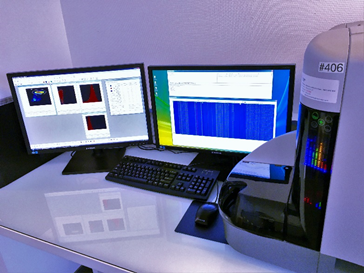 Fully automated set-up: Flow Check Pro and Flow Set Pro for a fast automated set-up
3 lasers (blue, red and violet): besides size and structure, up to 10 colors can be monitored
High Throughput Analysis: 32 tube multi-carousel loader with individual vortexing of each tube, barcode reading and automated work list acquisition
High precision and sensitivity: 20 bit resolution, 1,048,576 channel display to separate the dimmest populations and obtain excellent accuracy and resolution for dim stains and quantitation
Very reliable instrument: less than 5% digital error even at very high flow rates, carryover < 0.1%
Large range of application: characterization of cell surface expression of numerous molecules (both CD and non CD), immunophenotyping, determination of target cell type frequency in various biological fluids, cell cycle analysis, cell proliferation, cytotoxic assays, ex vivo and in vitro assays, minimal residual disease (MRD)
Numerous fields of applications: Onco-immunology, inflammatory, neurology, cardiovascular, etc.


Designed to fit your needs, the Navios flow cytometer provides efficient acquisition of superior quality data from up to 10 colors with advanced optical design for enhanced sensitivity "multicolor assays". With customized forward scatter, to achieve the most accurate size measurement, optimized electronics for high resolution, fast and accurate processing, we are a partner of choice for your research.

Firalis uses this flow cytometry platform to monitor biomarkers for diagnosis, pharmacodynamics and theragnostics in onco-immunology, neurological disorders and cardio-vascular diseases. Firalis provides support for the design of your flow cytometry-based assay. Firalis ensures assay development and validation, biomarker measurement and statistical analyses within an ISO 13485 and ISO 17025 environment.
Applications for various therapeutic areas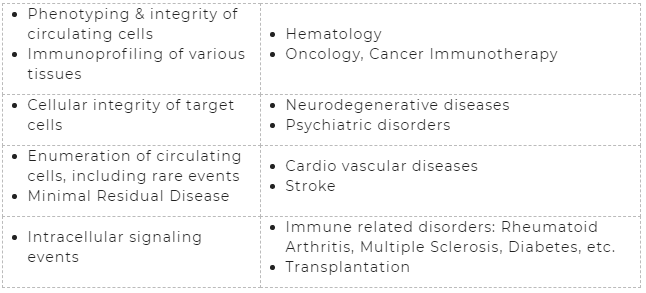 Whether seeking a cutting edge technology, expert hand to your research or taking your business to the next level, don't hesitate to contact us at sales@firalis.com to get further details about Firalis' Biomarker Services and to discuss your projects.