Firalis biobank facilities are an ideal option for long-term storage of your biospecimens. Our regulatory compliant storage facilities are operated by high competent staff under a strict quality management and control policy ensuring a high standard of service.
QUALITY : From validation to transporting samples, quality is at the center of all activities of Firalis, who is certified with NF S 96-900 quality norm, an integrated quality management procedure for biological banking repository facilities based on regulatory requirements and industry best practices, provided by AFNOR (French national organization for international standardization activities and certification). For further details, please click here to view the certificate.
SAMPLES TRACKING : Reliable tracking of biospecimens and secure storage of sample information require a robust IT infrastructure and validated working procedures. The IT infrastructure at Firalis is built around the Nautilus LIMS (Laboratory Information Management System) software, ensuring that all information and operations are tracked and logged during the entire storage time of any sample.

Upon arrival, samples can be stored in your tubes or in Firalis cryovials engraved with unique 2D bar code. We also provide aliquoting services to process biospecimens such as blood, serum, saliva, urine, etc. This label allows secure tracking of the sample throughout its life cycle. The tube label is linked to the sample data in our database. The database is regularly backed up to a geographically distinct location. The LIMS is validated and complaint 21 Code of Federal Regulation (CFR) Part 11 compliant.
TEMPERATURE MONITORING & SECURITY : Maintaining the appropriate storage temperature of clinical samples is essential. Our storage units are monitored 24 hours a day for temperatures, continuously measured by radio transmitter sensors and linked to a real-time alarm system. The monitoring system also notifies personnel or on-call staff, day or night, if the temperature of any unit deviates from its acceptable range.

Firalis security system also includes intrusion detection alerts and protection of your samples against any system failure. In case of power outage, our facilities are equipped with uninterruptible power supply generators.
STORAGE : Firalis has a dedicated and secured room for samples storage, protected by access-only card readers and has capacity of more than 2.000.000 samples in -80°C freezers, -150°C freezers and liquid nitrogen equipment.
-80°C Temperature storage

:

serum, plasma, urine, cerebrospinal fluid samples
NB: As an accepted standard for the conservation of sample for biomarker studies, it is a widely shared consensus that most of non-cellular biological specimens and biomarkers would be stable at this temperature.
-150°C Temperature storage:

cell lines and blood derived cells
NB: The use of cryogenic freezers is regarded as a safer alternative to liquid nitrogen vapor based methods. It allows cryopreservation well below the recrystallization point while avoiding the risk of contamination of the bio specimens by liquid nitrogen.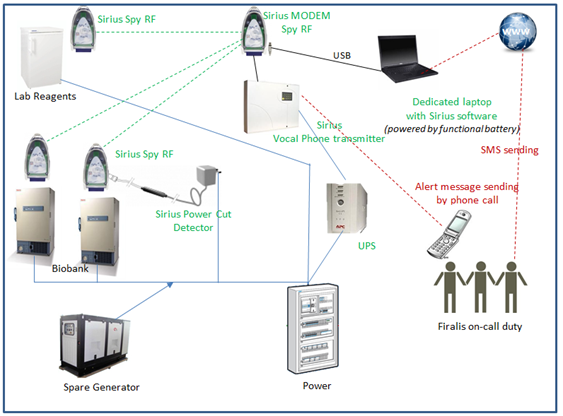 FIRALIS BIOBANKING WORKFLOW
Taking part in biobanking for our own development allowed us to create collections of biological material to be used for research purposes. We can propose you the access of our clinical samples for you research as we have thousands of aliquots of Whole Blood – PAXGENE, serum, Plasma EDTA/Lithium Heparin, urine, etc.

Our cohorts are distributed in different indications such as cardiovascular and inflammatory disorders:
Rheumatoid Arthritis (RA)

Ankylosing spondylitis (AS)

Systemic lupus erythematosus (SLE)

Primary Sjörgen syndrome (PSS)

Inflammatory myopathies (IMs)

Systemic sclerosis (SSC)

Vasculitis (VAS)

Whether looking for a cutting edge technology and an expert support in your research project; or taking your business to the next level, don't hesitate to contact us at sales@firalis.com to get further details about Firalis Biomarker Services and to discuss your projects.